Turkey is known for it's rich culture which is a blend of European and Islamic culture, reflecting in it's architecture and cuisine. The country is a popular food destination and attracts several tourists not only for it's beautiful places to see but also for it's cuisine. Here is a list of the most popular Turkish food,
Menemen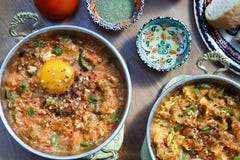 Menemen is a popular style of Turkish omelette. It is made with roasted onions and peppers which are boiled with tomatoes and mixed with eggs, herbs, and parsley.  Menemen is a tasty yet cheap, and easy to cook dish. This is mostly consumed for breakfast.
Döner
Döner is a kebab sandwich and a popular representation of Turkish food around the world. It is made with slow cooked meat, either chicken or lamb, and served with vegetables, yogurt and spices. It's a popular fast food, and popular snack item in Turkey.
Şiş Kebap
The Turkish version of a Kebab on stick is the Şiş Kebap. It is typically, either lamb, or chicken marinated in spices and skewered on sticks and grilled, hence enhancing the flavors as the meat slow cooks on the charcoal. This Turkish delicacy is served with a youghurt dip and can alse be eaten on it's own. 
Baklava
Baklava is a very popular Turkish Dessert, which comprises of layers of phyllo pastry with nuts, walnuts, hazelnuts or pistachios, which may vary from region to region in Turkey. The thinness of the pastry makes a difference in the taste.The pile of dough is dressed with butter, baked and finally soaked in syrup rendering a sweet, crisp and nutty flavour in the mouth.